File Transfer Protocol (FTP)
File Transfer Protocol (FTP)
The File Transfer Protocol (FTP) is a standard network protocol used for the transfer of computer files between a client and server on a computer network. This allows submission of computer files to be transferred over the State of Missouri's secure network, rather than sending files over the internet via email or sending documents through paper mail. 
Benefits of FTP
As the Original Assessment Section incorporates FTP into daily business practices, we will achieve a more secure method of file transfer, while reducing time spent on sending, receiving, and sorting emails and paper mail and eliminating document printing costs.  Additional benefits from utilizing FTP include automated tracking, dating, and archiving features.  As a benefit to the company, FTP gives users the option to upload single files individually or to zip multiple files into a single zip file, allowing all documents to be sent at the same time verses sending several emails with multiple attachments. Boosting electronic transfers together using the FTP features, is a way to increase processing efficiencies by making documents available to multiple users and enabling a more effective communications network.
FTP Sign On
Click button below to Sign On to the FTP website.

FTP Instructional Narratives and FTP Training Video
The Original Assessment Section has created FTP instructional narratives and a video.
Click button below to view FTP Instructional Narratives per user's selected web browser or play FTP training video.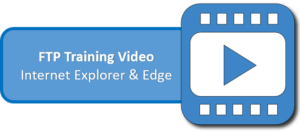 For assistance creating an account, contact Stacey Cowan, Appraisal Specialist, at 573-751-1708.